TAKE A GENEROUS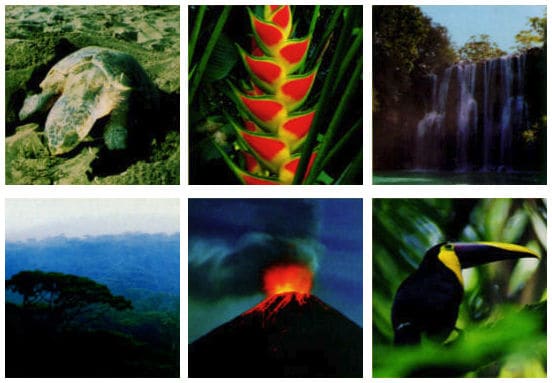 HELPING OF GREENERY
NATURAL HISTORY
Costa Rica is unique in having more of its territory protocted in national parks, biological reserves, and wildlife refuges than any other nation on earth. A dozen disctict life zopes, all within less than a day's drive of eacb other, contain tremendous tropical biodiversiíy. With friendly people, an exceptionally good infrastructure for a developing nation, and great beaches too, isn't it time that you discovered all we have to offer the natural history traveler?
In spite of its small size, Costa Rica harbors an amazing variety of climatic zones and natural habitats. In large part, this is due to the height of the mountain ranges that run the length of this narrow nation, separating the lowlands of the Pacific and Caribbean coasts. To achieve as representative a sample as possible of the diverse flora and fauna, you should ideally visit as many regions of the country as feasible within the constraints of your allotted time and budget.
To provide an overview of some of the principal natural history attractions throughout Costa Rica, we have divided the country into six geographical regions. Most of the regions contain several dífferent life zones and, correspondingly, most lite zones can be found in more than one of íhe regions.
Travel agencies, tourism brochures, and probably even Tarzan movies, have given the public the impression that the tropics are alive with brilliantly colorful creatures. And yes, while Costa Rica is home to the Scarlet Macaws, Resplendent Quetzals, Blue Morpho butterflies, and Gaudy Leaf Frogs that populate posters, T-shirts, and brochures, there are myriad other species that may not be so boldly patterned, but yes are just as fascinating to encounter.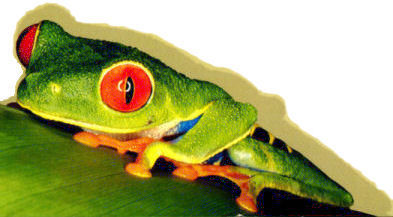 In this age of growing ecological awareness, it is hoped that visitors will be interested in gaining an appreciation and understanding of the different tropical ecosystems here and not come simply hoping to see the colorful highlights. To help achieve this level of experience, Costa Rica is fortunate in having an ever-increasing number of well-informed naturalist guides. Someone who knows how to spot hard-to-see wildlife and can explain about the natural history of both individual organisms and entire habitats is an invaluable asset to making the most of your visit. When setting up your tour, be sure to check with travel agencies and hotels to find out about the availability of guides at the places you will be visiting (if not hiring the services of someone who will accompany you throughout your itinerary). And obviously, such a person can also provide information about the country's human history and culture to give you a more complete perspective of life here.
Getting around Costa Rica is easier than ever before, too. As recently as the mid-1980's, most travelers would foray into one region of the country for several days, return to San José, then venture off to another region, and so on. This meant more time spent in the metropolitan area than most nature-oriented visitors cared to contemplate. Now, with an expanded network of roads (but watch out for those potholes!) it is commonplace to set out from the Central Valley and loop around the country, returning to San José only at the end of your stay.
The steadily increasing supply of hotels and nature lodges throughout Costa Rica likewise now makes it possible to explore virtually any part of the country, while helping to decentralize tourist traffic from the handful of destinations that were previously the most popular places in the country. Many lodges that cater to the natural history traveler also have their own private forest reserves and experienced local guides; be sure to ask when planning your itinerary.
Although the publication of numerous guide books to Costa Rica and the proliferation of car rental agencies provide the basics for the do-it-yourself traveler, don't forget the option of group travel. Almost every international tour operator specializing in natural history tourism offers trips to Costa Rica in which you can leave the details to them and just relax and enjoy your vacation. Typically, a two-week nature program designed by such agencies will include visits to four or five different sites to give a well-represented cross-section of the country's biological diversity.
Even though Costa Rica is a small country, there still is not room enough in the limited space of a brochure such as this to include all of the possibilities available to the natural history traveler. So if you don't see what you're looking for, ask.
When planning your Costa Rica vacation, consider the many options and then choose what most appeals to you. With all the right ingredients, a trip to Costa Rica is sure to suit your taste.
NORTHERN PACIFIC ZONE
The seasonally dry northwestern portion of the country stretches from the Tarcoles River to the Nicaraguan border and from the coast up the western slopes of the Tilaran Mountains and the Guanacaste Volcanic Cordillera. Above an elevation of about 4,000 feet (1,219.20 m), these ridges and volcanoes maintain a cool, moist climate the year-round. But in the lowlands, the northeast trade winds bring warm, dry currents that desiccate the region from about mid-November to mid-May each year. Described as a «seasonal desert», this area nonetheless teems with life that has adapted to the rigorous climatic conditions. Undaunted by me arid environment that persists for more than half the year, humans have brought much change to the region whose landscapes are now dominated by sprawling cattle ranches and large-scale agriculture, principally sugar cane and rice. However, the traveler can still experience the natural forests that onec covered the area and are now protected in Santa Rosa and Ralo Verde National forks, and Lomas Barbudal Biological Reserve.
SPECTACULAR FLOWERING TREES
As the dry season advances, many trees, vines, and shrubs lose their leaves as a means of conserving precious moisture. In response to these conditions, many insects either stop breeding or migrate to wetter parts of the .country. Bees, in contrast, have a field day as many plants flower during the dry months so that their seeds will be ripe and ready to germinate with the first rains. A number of tree and vine species put on spectacular floral displays to attract pollinators. The colorful blossoms also provide welcome visual relief from the predominant browns of the parched countryside.
There are some areas, nonetheless, where sufficient soil moisture is retained to allow the vegetation to remain evergreen. These become important refuge sites for much of the local wildlife during the dry season. Some characteristic dry forest bird species are the Turquoise-browed Mot mot, Black-headed Trogon, White-throated Magpie-Jay, and Rufous-naped Wren. Lizards are best represented by the ubiquitous Ctenosaur (pronounced Teen-o-sor) Lizards, and other resident reptiles include the Painted Red Turtle, Boa Constrictor, and Tropical Rattlesnake. American Crocodiles inhabit the major rivers of the region, where Green Iguanas can be found basking and chewing leaves on the branches of overhanging trees.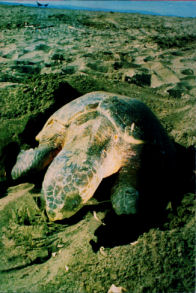 SEA TURTLE NESTING BEACHES
Pacific Ridley Sea Turtles and Leatherback Sea Turtles nest on several of the region's beaches, two of which are specifically protected: Ostional and Grande Beach. The former is difficult to reach in the rainy season (4X4 is recommended) when the Ridlleys, the smallest of the world's six varieties of sea turtles, come ashore more or less monthly in such quantities that he beach is literally covered with female turtles. This is one of nature's most extraordinary exibitions of excess. So many nests are made during each of the multiday nesting bouts that, previously laid nests are often inadvertently excavated, exposing the eggs to predators and the elements. To take advantage of this natural waste, villagers in a local cooperative have exclusive permits to harvest the eggs laid during the first days of each nesting period.
The largest sea turtles in the world, the giant leatherbacks, nest at different beaches on this coast; the most important ones are protected in Las Baulas Marine National Park at Playa Grande just north of Tamarindo and at Playa Naranjo in Santa Rosa National Park. They nest nightly during the first portion of the dry season.
MARSHES, CAVES, AND VOLCANOES
Another important dry season refuge is the marsh at Palo Verde National Park that provides habitat to wintering waterfowl along with resident species such as Black-bellied Whistling-Ducks, Snail Kites, Roseate Spoonbills, Wood Storks, and labirus (the largest New World stork). Additionally, many woodland creatures including Nine-banded Armadillos, White-tailed Deer, and Coyotes dwell in the protected plains and hills surrounding the marsh.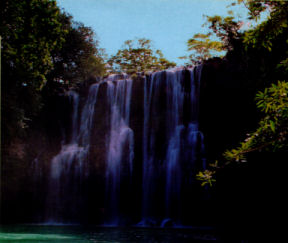 At Barra Honda National Park an extensive system of limestone caverns are protected. However, to enter them you have to receive special advance permission from the Park Service. Natural features of volcanic origin are one of the main attractions at Rincon de la Vieja National Park. Fumaroles, hot springs, and bubbling mud pots issue out of the ground on the lower western slopes of the volcano. Hiking to the summit and back, though strenuous, is possible to do in one day If you get an early start and the weather is good.
The tropical humid forest, life zone-that cloaks the middle elevation slopes is a magnificent habitat composed of towering trees and many curiously convoluted strangler. Wildlife is also quite abundant here.
Two private reerves protecting windswept cloud forest habitat in the upper reaches Of the Tilaran Mountains are the principal reasons why people journey up a gravel road for more than an hour to visit the Santa Elena/Monteverde area. This area is famous as a breeding ground for Resplendent Quetzals and Three-wattled Bellbirds. Other area residents include Black Guans, Emerald Toucanets, Two-toed Sloths, Prehensile-tailed Opossums, Gray Foxes, and Kinkajous.
CENTRAL PACIFIC ZONE
Ecompassing a mere 1,700 acres, Manuel Antonio National Park is the smallest park in the system. However, given its gorgeous beaches, ample wildlife, and relative ease of access, it is one of the most visited national parks.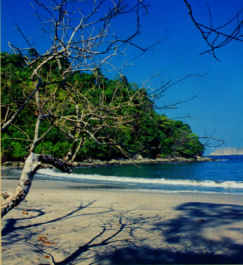 As a result of its reduced size, Manuel Antonio does not harbor the larger species of birds and mammals that are found in similar habitats (e.g., Corcovado and Carara). Nonetheless, much of the wildlife that remains in the park is exceptionally easy to see. Shy Central American Agoutis (large tailless rodents) amble about seemingly unperturbed by the presence of humans, inquisitive White-nosed Coatis (tropical members of the raccoon family) will allow a close approach, and White-throated Capuchin Monkeys become totally brazen. Lively troops of Central American Squirrel Monkeys also can be found cavorting in the canopy of second growth forests in and around the park. Three-toed sloths are likewise abundant.
Birds also give the impression of being highly concentrated in this area. Brilliant male Scarlet-rumped Tanagers leave no doubt about how they got their name, while the equally appropriately named Black-bellied Wrens fill the woods with their wonderfully full-bodied songs. Magnificent Frigatebirds circle effortlessly on the slightest breeze and odd-looking Brown Pelicans plunge headlong into the surf in pursuit of a meal.
An even stranger bird, the Common Potoo, is quite often seen if one goes out in search of nocturnal creatures. This region is characterized by high annual rainfall (140 inches or more) and a dry season which is short enough that most of the forest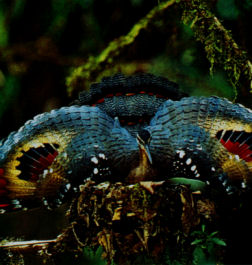 plants remain evergreen, or, at most, lose their leaves only briefly before putting out new ones. However, as you move north up the coast towards the mouth of the Gulf of Nicoya, a noticeable change takes place. This is the transition zone between the tropical wet forests of the south and the tropical dry forests of the northern Pacific half of the country.
CROCODILES AND SCARLET MACAWS
Fortuitously situated at the northern limit of the tropical wet forest life zone is the 11,700-acre Carara Biological Reserve. Just 90 minutes by car from San Jose, and only 30 minutes from the populous port city and provincial capital of Puntarerias, it is something of a miracle that this sizable tract of forest habitat should still exist. Scarlet Macaws, Chestnut-mandibled Toucans, Crested Guans, Howler and Capuchin monkeys, Banded Anteatcrs, and Collared Peccaries all manage to thrive within the boundaries of the reserve, not to mention a host of smaller and just as fascinating organisms.
The Tarcolcs River marks the northwestern edge of the reserve, and although threatened by pollution, is a good place to observe American Crocodiles and a variety of wading birds. An extensive mangrove forest grows just inland from the river mouth and during the winter months thousands of migrant shorebirds forage on the mudflats exposed by each receding tide.
P r o t e c t e d W i l d e r n e s s A r e a s

PROTECTED WILDERNES AREAS
SIZE Hectares
APPROX. TRAVEL TIME FROM SAN JOSE (by automobile, unless otherwise stated)
PRINCIPAL ATTRACTIONS
Arenal National Park
5,208
3 hrs. paved road
One of the world's most active volcanoes, bordered by the scenic Lake Arenal.
Caño Negro National Wildlife Refuge
9,969
5 hrs. paved road to Los Chiles, then 1.5 hrs. boat ride up Río Frío.
River and marsh habitat, excellent for viewing waterfowl, caimans, and other wildlife.
Barra del Colorado National Wildlife Refuge
92,000
35 minutes charter plane flight, or 3 hrs. on paved road to Limon and 3 hrs. boat ride up canals.
Costa Rica's «Amazon,» explore the rain forest via rivers and lagoons teeming with monkeys, crocodiles, toucans; great tarpon & snook fishing.
Tortuguero National Park
18,946
30 minutes charter plane flight, or 3 hrs. on paved road to Limon and 2 hrs. boat ride up canals.
Same as above, but also important as a major nesting beach for Atlantic Green Sea Turtles, (July thru September).
Cahuita National Rark
1,067
4 hrs. paved road.
Coral reefs, swimming beaches, swamp forest.
Gandoca-Manzanillo National Wildlife Refuge
5,013
4.5 hrs. paved road, 0.5 hour dirt road (Manzanillo), or 5 hrs. paved road to Sixaola & 1 hour boat ride to Gandoca.
Similar to above, but much more remote and secluded.
Hitoy-Cerere Biological Reserve
9,154
4 hrs. paved road, 1 .5 hrs. dirt road (4×4 needed).
Caribbean foothill rain forest for birdwatchers and nature lovers looking to get off the beaten track.
Chirripo National Rark
50,150
3 hrs. paved road, then 0.5 hour gravel road to San Gerardo and full-day hike to summit.
The highest point in Costa Rica and home to unique paramo (subalpine) vegelation; often cold and wet; advance permission from Park Service needed.
La Amistad International Park
193,929
6 hrs. paved road, 1 hour gravel road (Mellizas ranger station).
Magnificent highland oak forests, resplendent quetzals, remote and relatively undeveloped.
Corcovado National Park
41,788
1 hour charter plane flight, or 5 hrs. paved road, 45 minutes gravel road and 2 hrs. boal ride.
The largest tract of lowland rain forest on Pacific side of Costa Rica, great wildlife potential (e.g. 4 species of monkeys, tremendous biodiversity.
Caño Island Biological Reserve
300
1 hour boat ride from Corcovado.
Pre-Columbian burial ground, good snorkeling.
Cocos Island National Park
2,400
36 hrs. boat ride from Puntarenas.
World-class scuba diving.
Golfito National Wildlife Refuge
1,309
1 hour commercial domestic flight, or 8 hrs. paved road.
Lowland rainforest similar to Corcovado.
Manuel Antonio National Park
682
20 minutes commercial domestic flight, or 3 hrs. paved road.
Gorgeous beaches, excellent wildlife viewing possibilities.
Carara National Park
4,700
2 hrs. paved road.
Good example of tropical rain forest, complete with scarlet macaws, monkeys, and crocodiles.
Cabo Blanco Strict Natural Reserve
1,172
2 hrs. paved road, 1 hour ferry boat, 2 hrs. dirt road (4×4 recommended).
Good beaches, tidepools, abundant birds and wildlife amidst beautiful tropical moist forest.
Ostional National Wildlife Refuge
160
4 hrs. paved road, 1 .5 hrs. dirt road (4×4 recommended).
Nesting beach for Pacific Olive Ridley Sea Turtles.
Las Baulas Marine National Park
552
5.5 hrs. paved road, 0.5 hour dirt road.
Nesting beach for Leatherback Sea Turtles.
Santa Rosa National Park
21,913
5 hrs. paved road.
The largest remaining area of tropical dry forest in Central America, historic hacienda house.
Palo Verde National Park
1 6,804
4 hrs. paved road, 1 .5 hrs. dirt road.
Seasonal marsh good for waterfowl; dry forest, rivers, and mangroves.
Barra Honda National Park
2,295
3.5 hrs. paved road, 0.5 hour dirt road.
Impressive limestone caverns (previous permission from Park Service needed to enter), tropical dry forest.
Lomas Barbudal Biological Reserve
2,279
4 hrs. paved road, 0.5 hour dirt road.
Good example of tropical dry forest, also gallery forest along Rio Cabuyo.
Rincón de la Vieja National Park
14,083
4.5 hrs. paved road, 1 .5 hrs. dirt road.
Numerous geothermal features (fumaroles, hot springs, boiling mud pots), waterfalls, majestic tropical moist forest with much wildlife.
Poás Volcano National Park
5,600
1.5 hrs. paved road.
World's largest volcanic crater, adjacent crater lake, scenic highland forests, and modern visitor center.
Braulio Carrillo National Park
45,899
1 hour paved road (Limon highway]; 1 .5 hrs. paved road, 0.5 hour dirt (Barva Volcano).
Extensive tract of lower montane and pre-monlane rain forest with many unique and unusual plants and animals; dormant volcano with lush cloud forest.
Irazú Volcano National Park
2,309
1 .5 hrs. paved road.
Highest volcano in C. R. (11,000ft.), devastation from past eruptions gives «moonscape» aspect.
Tapantí National Park
6,080
1.5 hrs. paved road, 0.5 hour gravel road.
The rushing Orosi River cuts through luxuriant rain forest full of orchids, birds, butterflies and … rain!
SOUTHERN PACIFIC ZONE
Highlands
Separating the southern Pacific portion of the country from the southern Caribbean are the lofty Talamanca Mountains. At 12,533 feet above sea level. Mount Chirripo is the highest point in Costa Rica. The tree line at this latitude occurs at about 11,000 feet and the stunted bushy vegetation thai grows atop Chirripo and its neighboring peaks is known as páramo.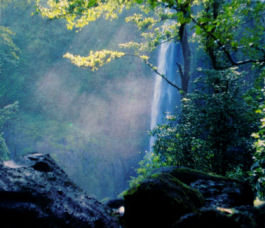 Because these highlands evolved in isolation from similar areas in the Andes to the south or Guatemala to the north, many of the plant and animal species are endemic (found nowhere else in the world) to Costa Rica and western Panama. This unique association and lower elevation habitats on both sides of the ridges are protected by two huge contiguous national parks: Chirripo and International Park La Amistad. This latter park extends into Panama as well.
Reaching the summits of these mountains involves serious hiking and serious preparation. For those interested in experiencing highland habitats without investing such effort, Cerro de la Muerte is traversed by the PanAmerican Highway and is less than two hours drive from San Jose. Magnificent oak forests that grow almost to the tree line are home to Resplendent Quetzals and more than 40 species of highland birds endemic to this region (including western Panama).
Due to human settlement patterns in the past century and the presence of a dry season during The first four months of the year in which fire is an effective land clearing tool, the southern Pacific slope has been deforested to such an extent that there are now no significant tracts of forest between Chirripo and Corcovado National Parks.
Lowlands
Occupying more than 100,000 acres of tropical lowland rain forest on the outer half of the Osa Peninsula, Corcovado National Park has gained a reputation that borders on fabled. This remote area holds the largest remaining population of Scarlet Macaws in the country and is perhaps the place where one would have the best chance of seeing a Baird's Tapir or even a Jaguar, Costa Rica's two largest terrestrial mammals. Herds of White-lipped Peccaries (essentially eliminated elsewhere) still roam the forest floor and high over head great raptors, including even the massive Crested Eagle, still soar.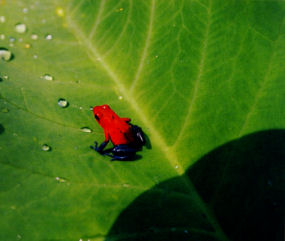 The four species of monkeys that live in Costa Rica can all be found in the park. In addition to the three more widespread species previously mentioned, this is one of just a few places where Central American Squirrel Monkeys occur. Snakes also are doing well in Corcovado. A wide variety of serpents ranging from harmless vine snakes to the dreaded Fer-de-lance inhabit the forests. In fact, almost every imaginable group of organisms is well-represented in this biologically diverse ecosystem. In one study of trees more than 100 species were identified in a 2.5-acre plot.
TWO UNIQUE ISLAND RESERVES
Most visitors that stay in the Drake's Bay area just to the north of the park also spend a day at Caño Island Biological Reserve. This 750-acre island 10 miles west of the mainland is of interest as a pre-Columbian burial site, for its paucity of biodiversity in comparison with nearby Corcovado, and most of all for the fine snorkeling to be had just offshore from the beach in front of the ranger station. Croups of Spotted Dolphins usually appear sometime during the boat ride to or from the island, and from about November to February it is even possible to sight Humpback or Pilot Whales.
For enthusiastic scuba divers, there's no place like Coco's Island. Tremendous abundance and variety of fish life, highlighted by huge schools of Hammerhead Sharks, make this spot one of the world's most talked about dive sites. Unfortunately for birdwatchers, the island's 300-nautical-mile distance from the mainland makes it just a bit hard to justify a trip there to see the three endemic bird species: the Cocos Cuckoo, Cocos Flycatcher, and Cocos Finch (all aptly named, eh?).
Back closer to shore, the Osa peninsula is separated from the mainland by the picturesque Golfo Dulce. The port town of Golfito is reached by highway and is serviced by regular domestic commercial flights, making it the logical starting point for an exploration of the gulf. The 3,270-acre Golfito National Wildlife Refuge surrounds the town and holds many of the same species of plants and animals as Corcovado, including the Black-cheeked Ant-Tanager, a bird known only from this southern region of Costa Rica.
CARIBBEAN ZONE
NORTHERN CARIBBEAN COASTAL ZONE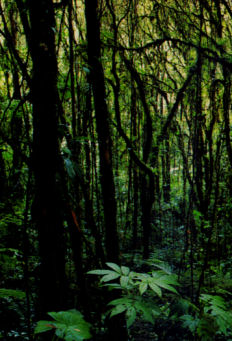 Fairly uniform in terms of topography and climate, the northeastern corner of the country is well-known for the lush tropical rain forests and me sea turtle nesting beaches that are protected in Tortuguero National Park and the Barra del Colorado National Wildlife Refuge. Together, these two preserves include more than a quarter of a million acres.
Due to the swampy conditions of much of the area, there is no road access. Visitors must come and go either by boat or plane, thus adding to the adventure of reaching this region.
The 22-mile stretch of beach extending south from the mouth of the Tortuguero river is the most important nesting site for Atlantic Green Sea Turtles throughout the entire Caribbean. These marvelous marine reptiles remain essentially unchanged from their ancestors that once shared the seas with pelagic dinosaurs.
Sitting quietiy on the sand under the tropical night sky and watching as a female turtle repeats the age-old process of dragging herself up the beach to dig a nest and lay her eggs is a unique experience not soon forgotten.
Leatherback Sea Turtles also return each year to nest on this coast, usually a bit further south. And occasionally, Loggerhead and Hawksbill Sea Turtles come ashore here, loo.
MONKEYS, SLOTHS, AND MAYBE A MANATEE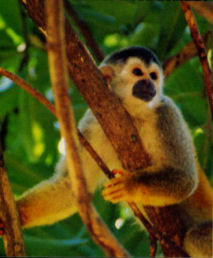 World-class tarpon and snook fishing first opened this region to tourism, but natural history visitors have been increasingly drawn by the incomparable beauty of the waterways ihat afford an effortless entrance to the majestic vine-draped forests. Three species of monkeys (Mantled Howler, White-throated Capuchin, and Central American Spider Monkeys) and both Costa Rican varieties of sloths (Brown-throated Three-toed and Two-toed Sloths) can be observed here with relative case. Less likely to be seen, yet still present beneath the dark waters is the country's largest resident mammal, the West Indian Manatee.
The most numerous and diverse group of mammals in Costa Rica are the bats. Of the slightly more than 100 species that inhabit the country, one of the most readily identifiable is the Greater Fishing Bat. This species is commonly seen flying low over the region's rivers and streams in search of insects and small fish which it scoops from on or just below the surface. It has a large wingspan (12 inches or more) and reddish fur.
Emerald Basilisk Lizards, Green Iguanas, and Black River Turtles are among the reptiles most often seen when exploring the creeks in the daytime. The area bird life is represented by more than 300 species, and several of these, such as Chestnut-bellied Heron, Rufescent Tiger-Heron, Sungrebe, and Green-and-rufous Kingfisher, though rare and/or reclusive, are specialties of the swamp habitat.
Boat travel from Port Mom (near Limon) to this corner of ife country was made possible in the early 1970's with the completion of a dredging project that linked various rivers and coastal lagoons into an inland waterway. A trip up or down this canal system is also sure to yield good wildlife viewing.
CENTRAL AND SOUTHERN CARIBBEAN COAST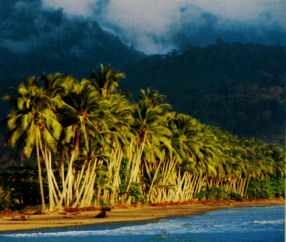 Moving down the coast from the Caribbean port city of Limón takes you into one of the most culturally distinctive parts of Costa Rica. Remnant populations of native Americans, from the Bribri and Cabecar tribes, and Afro-Americans that came to Costa Rica via Jamaica a century ago to work the railroads and banana plantations, live in the lower foothills of the Talamanca Mountains and along the narrow coastal strip in small settlements and villages that still maintain a slow-paced existence.
The prettiest beaches on the country's east coast are located here as are several famous surfing spots.
Cahuita National Park protects 2,500 acres, much of which consists of an underwater area of coral reefs and sea grasses. More reefs are found a bit further down the coast and these are included in the 25,000-acre Gandoca-Manzanillo National Wildlife Refuge. The terrestrial flora and fauna is similar in both reserves, and has many species in common with the previous region, both being located on the Caribbean side of Costa Rica. This is probably the best area of the country for finding three-toed sloths.
STRANGE NOISES AND COLORFUL FROGS
A common sound in these forests is a sharp snapping noise produced by a bird scarcely larger than a hummingbird. A male White-collared Manakin makes the sound with his wing tips in hopes of attracting and impressing the local females. Despite all the racket, birdwatchers can at times find these small birds frustratingly difficult to see. Hummingbirds are also plentiful here due to the abundance of several species of heliconia plants a favorite nectar source.
Green and black Harlequin Poison-dart Frogs can be found hopping about the understory of these forests while juvenile whiptail lizards with electric blue tails bask in flecks of sunlight.
Situated 14 miles inland from the coast and covering nearly 25,000 acres of rain forest is the Hitoy-Cerere Biological Reserve. It is a bit of a challenge to get there (having to find your way through a maze of banana plantations and then up a narrow dirt road), but taking the path less traveled can often have its rewards.
NORTHERN ZONE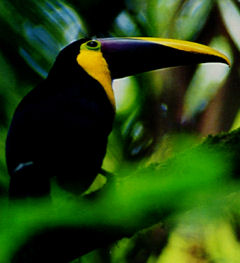 A large and ecologically diverse region, this area includes the eastern slopes of two entire cordilleras, as well as Poás and Barva Volcanoes, an extensive area of lowlands now mostly converted to agricultural uses, and several major rivers that flow north into Lake Nicaragua and the San Juan River. The undisputed highlight of this region, and perhaps the entire country, is the impressive, nearly perfectly conical Arenal Volcano. Since renewing its volcanic activity wilh explosive and destructive force in 1968, Arenal has settled into a period of continual minor eruptions which pose almost no threat to visitors, yet provide spectacular natural pyrotechnic displays (best appreciated after dark).
Thermal springs emanate from the base of the volcano's northwestern flank and provide the idea! setting for viewing the fiery show in soothing, relaxing comfort.
SCENIC LAKES AND TROPICAL RIVERS
An adjacent attraction is Lake Arenal, a manmade reservoir that is internationally famous for its windsurfing and rainbow bass «guapote» fishing. Just north of Lake Arenal is the much smaller, yet equally scenic Lake Cote.
Further north, near the Nicaraguan border, is the Caño Negro National Wildlife Refuge, a seasonal marsh that actually becomes a 2,000-acre lake in the height of the rainy season (Sept.-Nov.) and is an excellent place to view both resident and migrant waterfowl.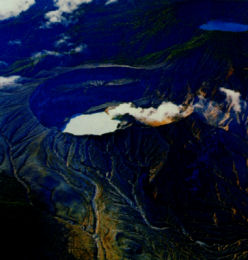 Here, and along the banks of the other rivers in this region, Spectacled Caimans and American Crocodiles can often be spotted basking.
To the east, the Sarapiqui River flows into the San Juan River at the end of its journey which begins high up on the summits of Poás and Barva Volcanoes. Where this river reaches the foothills it offers great whitewater rafting and kayaking.
A TREASURE CHEST OF BIRDS
This portion of the region also is known for its birdwatching. Sunbitterns forage and nest along the rivers, and in the forests an incredible variety of bird life can be found. Almost anyone visiting the area is sure to see the crow-sized Montezuma Oropendolas with their bright yellow tails flying to and from their colonial nest trees which are characteristically festooned with dozens of long pendulous nests. Equally obvious are the two largest of the country's six species of toucans, the Keel-billed and the Chestnut-mandibled Toucans. More elusive feathered creatures such as Great Tinamous, Rufous Motmots, Slaty-backed Forest-Falcons, and Ocellaled Antbirds can, with patience and luck, be glimpsed by spending time on forest trails.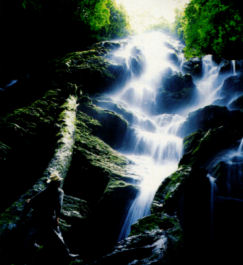 Most amphibians are creatures of the night, and venturing out on a humid evening with flashlight in hand is certain to result in encounters with anything from a monstrous Marine Toad to a tiny Tink Frog. Around ponds and swamps you might even come face to face with a brightly-colored Red-eyed Leaf Frog. However, there is a colorful little frog that can easily be seen during the day: the Strawberry Poison-dart Frog.
THE CENTRAL VALLEY AND CENTRAL HIGHLANDS
Back to GO. Almost everyone that visits Costa Rica starts their trip in the Central Valley for the simple reason that the country's principal international airport is located here. The capital city of San José is just 10 miles east. Some travelers head for the hinterlands as soon as possible, but others prefer to use one of the many hotels in or just beyond the greater metropolitan area as a base of operafions during their entire stay. Indeed, given the size of Costa Rica and the geographic location of the Central Valley, it is possible to visit a representative locality of almost any of the previously mentioned life zones and habitats during the (Jay and return to the? valley by nightfall.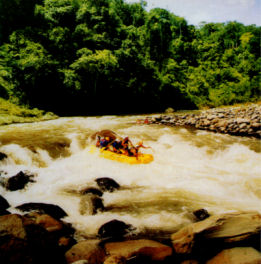 DAY TRIPS TO VOLCANOES AND RAIN FORESTS
Two of the mosf popular natural history day trips from the Central Valley arc Poas and Irazu Volcanoes. Each is accessible via paved road (90 minutes from downtown), and provides good examples of the country's highland flora and fauna, as well as the added attraction of a steaming volcano!
For something a bit more adventurous, try Barva Volcano, located between the previous two slumbering giants. If you don't have a 4WD, you'll have to walk the last two and a half miles to the ranger station where the trail begins to a crater lake surrounded by stately oak forest. Barva Volcano is part of the 110,000-acre Braulio Carrillo National Park. Another sector of this same park is reached by taking the highway to Limón. Being much lower down on the Caribbean side of the volcano, this area is in premontane rain forest.
Tapantí National Park, about an hour's drive southeast of Cartago, preserves lower and upper montane rain forests and is one of the wettest parts of the country as it receives an annual average rainfall of 230 inches. The scenic Orosi River flows through the park and is a reliable spot for seeing the American Dipper, a curious bird that actually walks underwater.
Comentarios Facebook